Tianbao Anise oil
Tianbao anise oil is a specialty of Debao County. It is steamed with anise leaves. During the period of the Republic of China, all the Hong Kong famous ports were labeled with the trademark "Tianbao brand" (the name of the original county). There was a saying that "French perfume is not fragrant without Tianbao anise oil". Tianbao anise oil has the characteristics of high freezing point, good refractive property, high brain content, strong fragrance and purity. It has the functions of sterilizing, strengthening the stomach, driving away wind, eliminating phlegm, relieving cough, treating neurasthenia, dyspepsia, scabies and other diseases. It is an important raw material for the production of more than 40 kinds of medical drugs and processing industries such as spices, food, toothpaste and cosmetics. The export volume of this product accounts for 90% of the whole Guangxi and 50% of the whole country.Products are exported to Europe, America and Southeast Asia.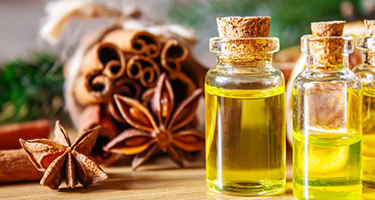 Nutritional value
Anise anise oil can repel insects, sterilize bacteria, strengthen stomach, dispel wind, expectorate, cough, and treat neurasthenia, dyspepsia, scabies and so on.
Product Features
The anise petals produced in Debao County are even in Angle, the dried fruits are red and fragrant, and the anise produced is of excellent quality. Anise oil has a wide range of uses. In cutting-edge fashion, it is an essential ingredient in fifine perfumes.
History
Debao County, Guangxi has the reputation of "Hometown of Star Anise Oil". As early as the Yongzheng period of the Qing Dynasty, Debao people had cultivated star anise, and the anise oil produced had the absolute advantages of high freezing point and high fennel reserves. Tianbao (formerly known as Debao County) fennel oil has been exported to France, and there is a saying that "French perfume is not as fragrant as Tianbao fennel oil". Products sell well at home and abroad. Debao County now has 340,000 mu of star anise oil forest, with an estimated annual output of 600 tons of anise oil.
Product Description
Aniseed anise oil is a natural plant aromatic oil extracted from the branches, leaves and fruits of aniseed tree by steam distillation, volatile oil separation cooking and other methods. General oil content: • Fresh leaves between 0.75%-0.95% • Anise fruit is 5%~6%. • Seeds are 1.7%~2.7% Different extraction methods obtained different weight of star anise oil. It is a clear liquid with colorless or light yellow color. When cooled, it will become cloudy or precipitate crystallization. When heated to a certain temperature, it will become clear again.
Composition table
Aroma description:

star anise characteristic

fragrance

Solubility:

Insoluble in water, miscible with oil and

fat soluble organic solvents.

Appearance Shape:

colorless or yellowish clear liquid

Solubility:

1:3 (v/v)

Trans aniseed brain:

≥88.9510%

Artemisia ordosica brain:

≥3%

Cis-anisole:

≤0.33%

Freezing point:

≥15 ℃
Processing technology
Aromatic oil extracted from star anise branches, leaves and fruits, commonly known as fennel oil or star anise oil. General oil content: fresh leaves are 0.75%~0.95%, seeds are 1.7%~2.7%, and peels are 5%~6%. The main ingredients are anethole, that is, star anise (molecular formula: C10H12O), and anisyl ketone, anisaldehyde, α-pinene, limonene, linalool, borneol, etc. Anethole is a colorless to light yellow liquid that solidifies at low temperature and is a white crystal with a relative density of 0.980~0.994.
Description of use: It can be directly used in food seasoning and spices, often used as seasoning and fragrance, and used in daily essence and cosmetics. With the advancement of science and technology, the application fields of fennel oil are becoming wider and wider, and industries such as feed, tobacco, detergent and chemical industry are constantly developing fennel oil.