Features
Baise mango has beautiful appearance, strong aroma, sweet taste, high quality, fresh skin color, good coloring and luster, bright appearance, thick fruit powder; the flesh is yellow to orange, with small core and thick flesh, tender and smooth, less fiber, The taste is sweet and refreshing.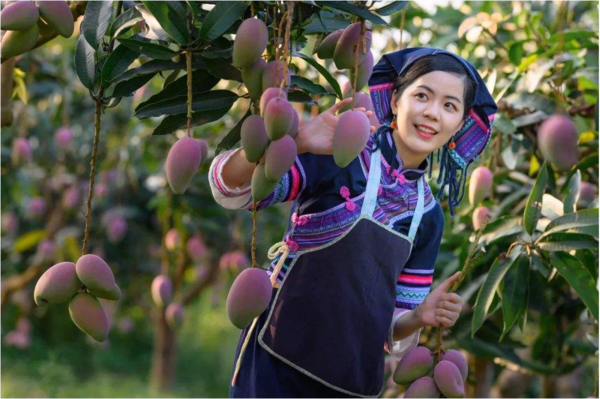 Origin environment
Baise City is a prefecture-level city under the jurisdiction of Guangxi Zhuang Autonomous Region. It is located in the west of Guangxi Zhuang Autonomous Region, the upper reaches of Youjiang River, between 104°28'-107°54' east longitude and 22°51'-25°07' north latitude. It borders Yunnan, Guizhou in the north, Nanning, the capital of Guangxi Zhuang Autonomous Region in the east, and Vietnam in the south. The terrain of Baise City is high in the north and south in the middle and low in the middle, and the terrain slopes from northwest to southeast. It belongs to the subtropical monsoon climate. In this climate, it is more suitable for the growth of Baise mango, which tastes sweet and refreshing.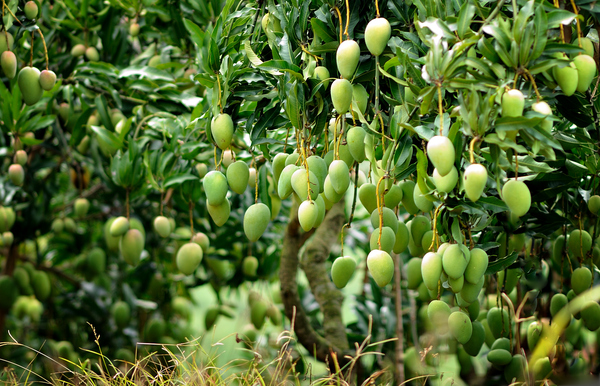 Production status
Baise City began to develop mangoes in the 1970s and 1980s. After more than 30 years of development, Baise mango planting area has reached 661,600 mu, with an annual output of 332,900 tons and an output value of 1.702 billion yuan, making it the largest mango production base in prefecture-level cities across the country. By 2016, the newly planted mango area will be 540,000 mu, and the city's mango area will be
expanded to 1.08 million mu. By 2020, the annual mango output will reach 1 million tons, achieving the goal of "double million" with an area of one million mu and an annual output of one million tons.output of one million tons.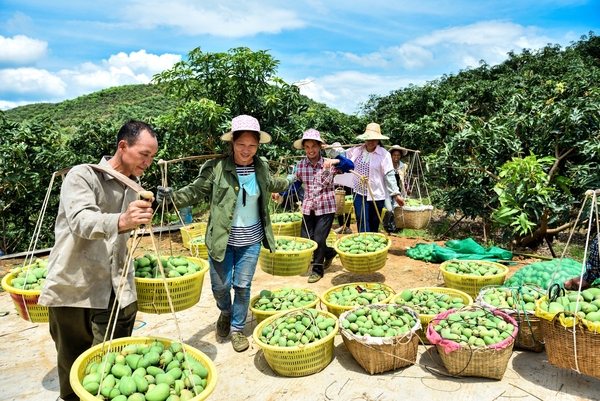 Product honor
When it comes to mangoes, we have to mention Tiandong County in Baise. Tiandong County is located in the southwestern part of Guangxi and in the middle of the Youjiang River Valley. Township" is a coincidence, and everything is made by nature. Since 1996, Tiandong County has successively been approved for five geographical indication protections including "creating a national pollution-free mango base production county", and has been awarded six titles including "Hometown of Mangoes in China" and "Guangxi Pollution-free Agricultural Products (Mango) Origin Certificate". In December 2017, "Tiandong County Baise Mango" was identified as "Agricultural Products Advantageous Area with Chinese Characteristics".
Quality features
Sensory characteristics: The skin color of the fruit is fresh, the coloring is good and shiny, the appearance is bright, and the fruit powder is thick; the flesh is yellow to orange, with a small core and thick flesh, tender and smooth, less fiber, and a sweet and refreshing taste.
Physical and chemical indicators:
Variety
Single fruit weight (g)
Soluble solids (post-ripe fruit)

Total acid (post-ripe fruit)

Gui Qi

≥200




≥15%





≤0.5(g/100g)

Tai Nong No. 1

≥200

GuiremangNo.10

≥300

Jinghuang


≥600

red ivory

≥400

≥13%